Sunday, April 26, 2009
10:08 am edt
Friday, April 24, 2009
New Chuck Palahniuk poster!
On Monday, April 27th, I will have a brand new poster going on sale that I created for Chuck Palahniuk's book tour promoting his new novel 'Pygmy'. It will ONLY be on sale here in my store, and for those of you living on the east coast and plan on attending the events, order quickly and I can have copies sent to you in time to have Chuck sign them at the shows.
I also have a few copies left of the first poster I created for Chuck, available in the 2008 poster section of my store...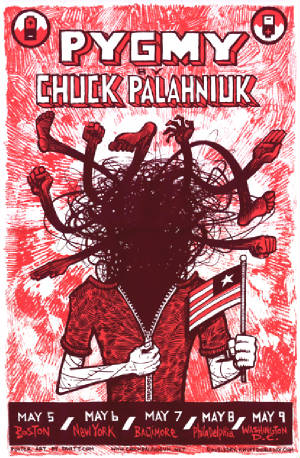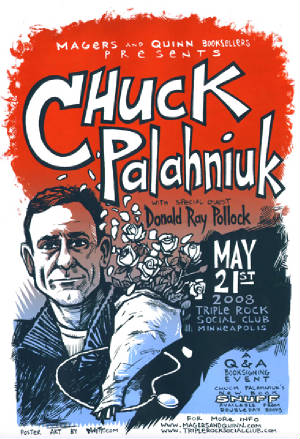 Also be sure to swing by the Back Alley Gallery this weekend during the St. Paul Art Crawl. I'll be there with plenty of prints, drawings, and good spirits.

12:50 pm edt
Monday, April 20, 2009
Spring Art Crawl 2009
First off, I'd like to give a big THANK YOU to all who took part in my one day sale through my Etsy.com store. Due to the success of this first sale, I will definitely plan on doing another later this year. Again, thank you!
My first ever banner add is now up and running at Gigposters.com. Check it out!


I also recently reprinted and updated a favorite art print of mine, 'Coffee Makes Life Livable'. This new edition has an updated design, and is printed on 100lb. brown speckletone paper. Buy a copy now in the Art Print section of my Store!
Finally, the St. Paul Art Crawl is back! Happening this weekend, Friday April 24th ( 6-10pm), Saturday April 25th (noon-8pm), and Sunday April 26th (noon-5pm). As always, I will be in the Back Alley Gallery (262 E 4th St, studio #LL2) for the entire weekend, selling prints, posters, drawings and painting with my friends. Join the party and have a great weekend with us.
8:12 am edt
Tuesday, April 7, 2009
Spring Cleaning Sale! April 17th! Etsy!
Ladies and gentlemen, fans, critics, patrons, clients, friends and family... Mark your calendars! For one day only, Friday April 17th, 2009, everything in my ETSY.com store will be marked down. Some items as much as 50%. Drawings, paintings, original poster art, posters, and art prints. The whole shebang!
Since MANY of the items are one of a kind, supplies will be extremely limited, and fortune will smile upon those with good timing and decisive action. Good luck, and enjoy!

11:17 am edt
Monday, April 6, 2009
Kill The Vultures
This friday at the Triple Rock, local hip hop group Kill The Vultures celebrate the release of their new album 'Ecce Beast'. I created this poster for them (inspired by lyrics from the album), which will go on sale in my store on Saturday the 11th.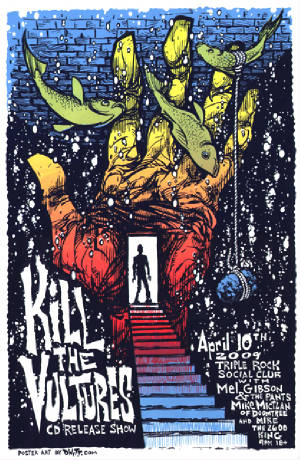 4:17 pm edt