Thursday, April 26, 2012
The Saint Paul Art Crawl
The best part of spring is about to hit Lowertown Saint Paul... The Art Crawl!
Visit me in my studio, #411 of the JAX building:
Friday April 27th 6-10pm
Saturday April 28th noon-8pm
Sunday April 29th noon-5pm
The $5 Scratch and Dent poster pile has grown due to some of my bad packing techniques on my recent visit to Savannah Georgia. Plus many new prints, and even a $1 per ticket raffle to win one of my 16 color Artcrank prints.
It's going to be a great weekend!
5:41 pm edt
Friday, April 13, 2012
Multifaceter opens tonight!
After a grueling schedule for over the last month, the work is finally complete, and tonight is the opening reception of my solo show, Multifaceter. From 7-10pm join the party at Big Table Studio in downtown Saint Paul and see among other things, the largest drawing I have ever created. Plus, my friend Ben Weaver will be playing a set of music for us.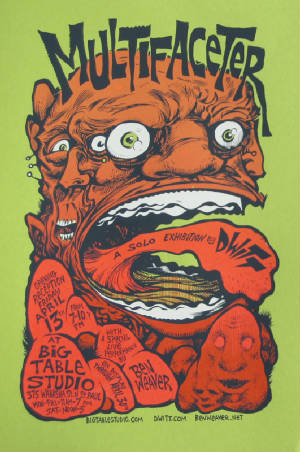 2:04 pm edt