Thursday, February 19, 2009
New posters and paintings
I've got five new posters in the bag, three of them (Ben Weaver, Eclectone Records Showcase and Witch pictured below) are now on sale in my STORE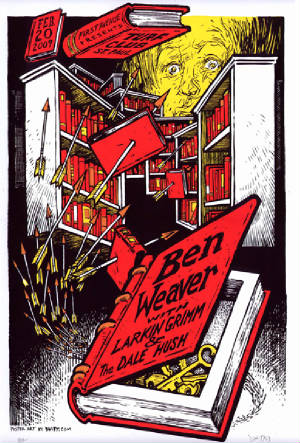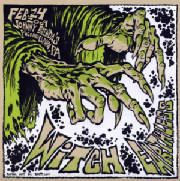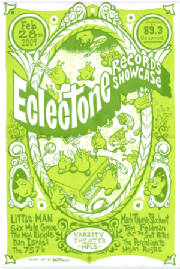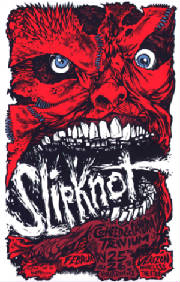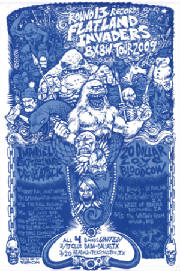 and in addition to all of the posters I have been doing lately, I have also begun a new series of paintings titled, 'Angel Deconstructions'. Check my Etsy store regularly to buy one for yourself or someone you know who needs an angel...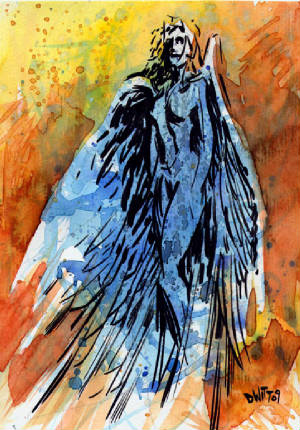 2:53 pm est
Sunday, February 8, 2009
What's goin' on
Busy times here in the studio! Of course, in two weeks is the BAG's first show of the year, 'Bitter', where I will have some new drawings and paintings. I am also hard at work on a new comic for Lerner Publishing, and this month will see 6, yes 6, new screenprinted posters for the following folks: Slipknot, Ben Weaver, Witch, Eclectone Records showcase, Round 13 records tour, and Flatstock 20. In addition to that I am doing a painting for a group show hosted by Spraygraphic, as well as a print for the Independent Record Store Day print show taking place in three cities simultaneously (more on that later since it's in April).
For any of you out there interested in buying some t-shirts with my designs on them, check these out: Dead To Fall (Chum Fiesta, Arthropodan Eroticism, and Brainmelter designs, and great prices too!), Havok (the Slither, Out of Control, Shred, Furious, and Shattered designs).
And also a reminder that besides my Store right here on my website, I welcome you to shop my Etsy.com store where I have many original drawings and paintings for sale. One of a kind goodies that will bring endless joy to your life, and I add new work on a weekly basis. And while I am gratuitously pitching my wares, those of you that don't want to miss a single print that I do, I offer a subscription, which gets you one of every print I create between August 2008 - August 2009. You can see the details HERE
One last thing, my DWITT.com Gallery is quickly coming to life. It will soon be stocked with all kinds of images from the work I have been doing over the last several years, from Fine Art, to Illustration work, and my comics.
Enjoy!
9:49 am est