Sunday, September 25, 2011
All Kinds of Goings On
- Hopefully you made it out to the fantastic annual event that is the Twin Cities Zinefest. I was there with many many many other exhibitors, all of us swimming together in an ocean of creativity and productivity. There was a lot to digest, and you can bet I'll be back next year.
- The Zombie Pub Crawl is back, and once again, I've created the poster for this years event, and am hard at work on a two page map of the undead hootenanny. ...Brains....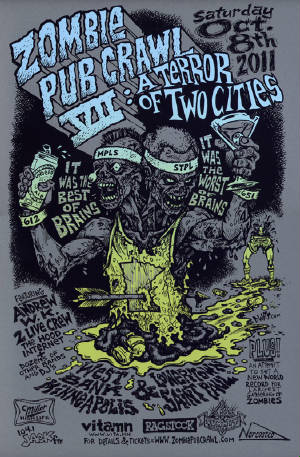 - Speaking of hootenannys, check this out: 6 weeks of country bands at Hymie's Vintage Records for their totally free and very cool 'Schlitz Kickin' Country' Event. Free music AND beer. Winning!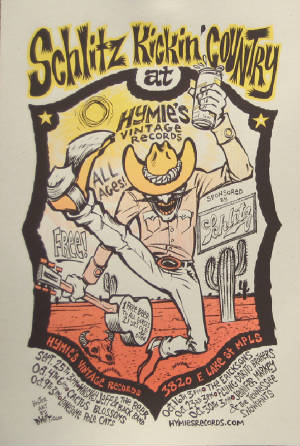 10:14 am edt
Friday, September 9, 2011
Heavy Table
Today is the debut of my food review comic strip, Louie The Loon: A Foodie Cartoon, over at the wonderful website Heavy Table. This will be exclusive content for them, and I've signed up to do 8 comics which will appear bi-weekly. If you enjoy them (which I certainly hope that you do), let the folks at Heavy Table know it so after the first 8 I can produce many more for them. As you may know from reading my DWITT Dailys strips, I enjoy eating and preparing food and then drawing about it.
Also, a big thanks to everyone who took part in my 7 Year Anniversary of Self Employment Sale. It means a lot to me knowing I have so many supporters of my work. Cheers!
9:00 am edt